Mobile Passport – mobile passport, streamlining airport check-in in the US
Online airport check-in is actually already a standard feature. Many airlines also provide a boarding pass for your phone, so you can also check in via your smartphone. U.S. airports have gone a step further, introducing the so-called "iProof".
Mobile Passport. It's a mobile app that will greatly speed up airport customs clearance – targeting all airports in the United States!
The app was developed by Airside Mobile and has been officially approved by the U.S. Customs and Border Protection (CBP), or US Customs and Border Protection. The application allows for a much shorter stay at the airport, as part of the check-in is transferred to the screen of the mobile device.
Citizens of the United States and Canada can take advantage of the Mobile Passport benefit.
How it works?
At the very beginning, the traveler needs to download the app to his smartphone or tablet. The app is currently only available for Apple device users, but a version for Google Play is expected to be released later this fall.
The second step is to create your profile along with entering all your passport data. The app provides security for data to be shared only with CBP. Travelers can also create profiles for their entire family.
The next step is to answer the four basic questions about your trip that a customs officer usually asks – this time you answer them on the app, instead of face-to-face with a customs officer.
Then connect to the Internet and transfer data from the application to CBP. The provision of information in the app is binding and providing false answers incurs legal liability. A short while after sending the data, the user receives an encrypted message with a QR-code that is active for four hours – during this time you have to report to the checkpoint.
At the very end, all you have to do is follow the signs directing you to the Mobile Passport Control checkpoint. It will allow the traveler to bypass large queues and leave the airport much faster – just show the customs officer the passport and the code from the app, and that's it.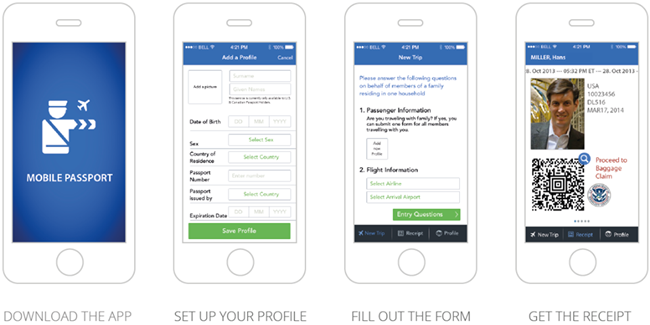 As of August of this year, service of Mobile Passports has begun Atlanta airport. The system, however, is eventually to be in effect at airports throughout the United States. Given the mobility of U.S. citizens, we can assume that the system will meet with great interest from travelers. The question is whether the large number of passengers using Mobile Passport will not cause travelers to move from one queue to another. It remains to be hoped that the system really speeds up the service of a single person and demonstrates efficiency of operation.
If the idea takes hold in the U.S., who knows, maybe mobile passports will soon be hitting almost all airports, not just in America, but around the world.
Official website of the app: http://mobilepassport.us/