Will Samsung end up like Nokia and BlackBerry?
Reading the title question, many of you probably shook your heads. How would the largest smartphone manufacturer, Korean Samsung, disappear from a market it has dominated for several years? Well, in the same way as Nokia – until recently synonymous with "cell" and now a manufacturer without rights to its own brand. However, are there any grounds to rally to the demise of Samsung?
Let's find out!
Gartner: Apple sold more smartphones than Samsung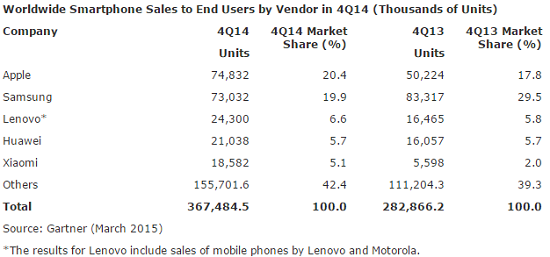 A few days ago, Gartner published an extremely interesting report on smartphone sales in 2022. We can read from it that sales of these devices in the fourth quarter of last year increased by 29.9% compared to the same period of 2013. However, the most interesting part of this publication concerns the change in the leadership seat. It turns out that within The last three months of 2022.
Samsung sold fewer phones than Apple. This fact is illustrated in the table below:
The Korean giant had led the stakes since 2012, but in the last quarter of 2022. has lost nearly 10% of its global smartphone market share. Apple has increased its share, but so have Chinese manufacturers, which many analysts believe pose the biggest threat to the current leader. We wrote about this a few months ago.
However, it seems that the threat to Samsung is not only "Chinese tigers" – some of these companies buy components for their products from the Korean conglomerate – but also its pricing policy. Unfortunately, but the Galaxy S6 announced a few days ago will be extremely expensive (In the U.S., prices are expected to start at $699 for the entry-level Galaxy S6, that's $50 more than the iPhone 6 and as much as $100 more than the HTC One M9, the new flagship from HTC!).
Motorola and Cyanogen CEOs: Samsung will share Nokia's fate
On Samsung's case speak out not only analysts, but also representatives of the competition. A few weeks ago, one of Motorola's executives, Rick Osterloh, allowed himself the following comment: "Every seven years, the person who was at the top of the market leaves". After which he added: "We are in the midst of this remarkable shift, during which people are realizing that they no longer have to pay $600 for a phone to enjoy the best experience." Osterloh made an obvious reference to the policy of Motorola, which was purchased by China's Lenovo, which is trying to provide the market with high-performance and low-cost smartphones – just like the rest of the Middle Kingdom manufacturers.
A few days ago, the CEO of Cyanogen (makers of CyanogenMod – an extremely popular Android distribution among advanced users, based on an open source model) Kirt McMaster spoke in a similar vein. Referring to the example of companies such as Xiaomi or Micromax, McMaster argues that the combination of appropriate software with medium-performance components (made by Qualcom or Mediatyk – you can read a little more about it in this post), may be the cause of the demise of the existing sales leaders, who will not be able to compete with Chinese manufacturers in the segment of less powerful devices.
Quieter over that coffin!
Are Rick Osterloh and Kirt McMaster right? Their statements suggest that they are almost certain of Samsung's demise in the smartphone market. The timing of this remains a matter of debate. Both men have their arguments, and the examples of the aforementioned Nokia or BlackBerry clearly suggest that in the mobile technology industry it is quite easy to have spectacular – and unforeseen – collapses.
However, Personally, I think that some are too quick to rally to the end of the Korean giant.
Just take a look at the figures for total smartphone sales in previous years (taken from the Gartner report cited above):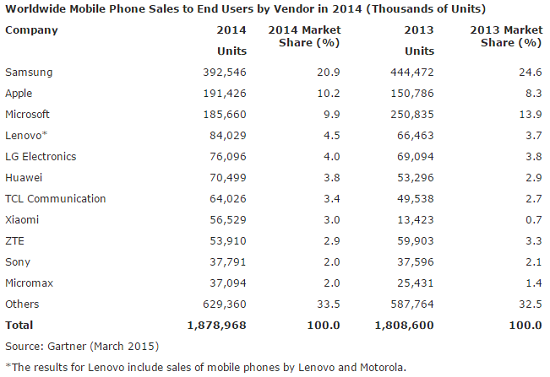 As you can see, Samsung's lead is declining, but the company still has a fairly large lead over second-ranked Apple. It is difficult to imagine the scale of mistakes that could lead to the squandering of past 10% The difference in shares in the global cell phone market. It is also worth remembering an extremely important fact. Samsung is not only a manufacturer of smartphones, but also of components such as displays, processors and memory modules – which are used by Apple and some Chinese companies.
It obviously increases profits for Samsung, which is additionally investing more and more boldly in its own solutions (Galaxy S6 and S6 Edge use only proprietary Exynos processors, while previous years' models were also available with Snapdragon processors from Qualcom). Samsung is a huge corporation, producer not only of finished products, but also of components and software. It seems that many analysts and commentators forget about these extremely important facts. They create simple and obvious analogies to the situation of Nokia or BlackBerry, but it seems that they do not fully reflect the specifics of Samsung and its role in the mobile technology market.
We are certainly observing an interesting trend, but it is difficult to assess in what direction it will develop.