Youtube and Facebook the most popular media in Poland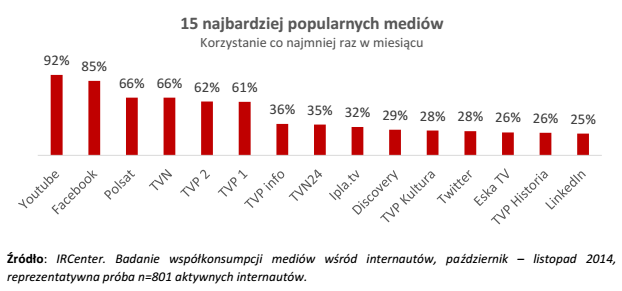 Warsaw, January 28, 2022 – Internet users are increasingly choosing to watch a video on Youtube and browse the newsfeed on Facebook rather than watch something on – Polsat and TVN. According to the latest syndicated survey on media consumption conducted by IRC. media consumption conducted by IRCenter, the most used media among active Internet users are Youtube (92%) and Facebook (85%), followed by the two largest commercial stations (both 66%). The study also found that attitudes toward using a TV have an impact on how people use the Internet.
Although the Internet is becoming the primary medium for more and more people, television and video content still have a strong position. For active Internet users, the most important additional media are cable and satellite pay TV (76%) and public television (72%). Through the Internet, these people use free VoD (92%), Internet radio (66%) and paid VoD (15%).
Learn about the TV habits of internet users
"We used the data we acquired to create a media co-use network. As a result, we were able to distinguish several distinctive audience groups that differ in terms of media co-consumption. This is valuable data from the point of view of potential advertisers," says Dr.

Albert Hupa, president of IRCenter, sociologist and social network researcher.
Internet users, who consciously abandon traditional television, nevertheless watch video content on VoD services (mainly on Youtube, Ipla.tv and on Zalukaj.tv). This group is very keen on mobile internet and Facebook. They are slightly more likely to be women, mostly over 25, many of whom have children.
The complete opposite of those who do not watch traditional TV are those who watch video content using all possible transmitters (TV, computer and mobile devices), also willing to pay for these opportunities. These include people who frequently watch all 4 major public TV channels, as well as use Cyfrowy Polsat and Ipla (in addition to Youtube, of course). They also do not shy away from TVP content made available on the broadcaster's VoD services.
However, from the point of view of digital marketing, the most attractive group are users of paid VoD on the Internet (mostly aged 25-34). These are the people who use various social media the most, connect to the Internet via the largest number of devices and use the most mobile Internet capabilities.
At the opposite end of the spectrum are the users of free video content on the Internet who are the least attractive to commercial TV providers – usually men from larger cities who like to watch TVP Info, Eska TV, Zalukaj.tv and Iplex. If anything, these people are best reached with outreach TV ads; they won't readily use online marketing solutions.
Of course, there are also people for whom the Internet is just an additional medium to TV (there are 22% of them among active Internet users). This is a group that primarily receives video content in the traditional way via TV, and makes limited use of the Internet.
"Television and the Internet are increasingly overlapping. The number of transmitters making TV content available is growing. Smart TV is also growing in popularity, hybrid TV is emerging; Apple, Google and Netlifix are outdoing each other in making their own content available through all possible devices connected to the TV set. Newer and newer forms of advertising in one medium and the other are being created, and they will only be cemented by the audience. It is worth thinking about them now," adds Dr.

Albert Hupa.